<!CW-ID="9840078335245">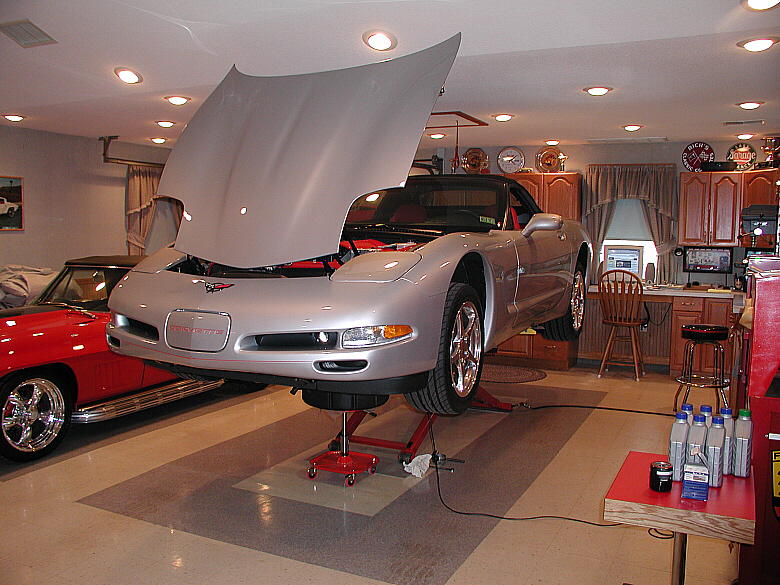 <!/CW-ID="9990078335245">

<!CW-ID="9960078335245">

This is a picture of the oil being changed using the Snap-On Mid-Level lift on the C5 Corvette. This lift works great for most of the work we do. The lift was from Snap-On and model # EELR300A. It was made by Wheeltronics, which was connected to Snap-On, and we purchased it through our local Snap-On dealer. Unfortunately it is no longer available through either Snap-On or Wheeltronics. There are still sources available for the mid-rise lift such as Bend Pak, Eagle, AC Lifts and Mohawk Lifts. Today many lifts may be made overseas so I would suggest carefully looking at their design, construction and design before purchasing one. If we were to purchase another we would likely look at the Mohawk.

If you have one or purchase a used unit you may find these soureces for information and parts of use. Panzitta Sales has the Operation, Installation and Parts available at this link: Operation & Parts Manual Parts can also be ordered through SVI International at this link: Parts Source

This one has several advantages including not getting in the way such as some others can. It is heavy but portable so it can be moved as needed. It just fits under a stock height C5 by backing over the lift but if you plan on lowering your car it might not. You have about 3/4" clearance from the lowest point of the car if you back over the lift to clear the front air dam. I back on to avoid hitting the front spoiler. The highest point on the lift is the lifting unit which is 4&3/4" high. You should take a measurement of the lowest point at the center of your car to make sure you will clear okay. I made a 4 &3/4" gauge out of wood with a short handle to place under the car to make taking the measurement easier. When delivered you also have to take into account that you have to unload the unit and it weights about 1,000 pounds. It comes on a wooden pallet and you have to get it off that. My wife and son helped and we unloaded it okay. Once off the pallet it will roll as it has wheels on the rear and the power unit also has wheels with a handle to move it around. For lower height cars you will likely have to make a set of ramps to raise the car above the lift. We made ramps using 2 x 12's with a 2 x 4 frame which raises our C6 Z06 just enough to clear.

One great feature is that it leaves the wheels off the ground so it is good for changing tires, oil, and polishing. It raises the car about 37" off the floor so it is at a good height for most work but you can't walk under it like you could with a four post unit and you don't have unencumbered access to the middle area under the car.

Each garage lift has their own pros and cons. For most of the work we do it works well. None of the lifts are what you would call inexpensive and I would be leery of anything that was. I wouldn't take a chance with something that heavy over your head. I may get a four post lift later to use for storage of one car above and one below so, if storage is a consideration, you might want to consider that aspect. The four post units don't leave you access to remove the tires, since they sit on the ramps, unless you use a separate rail and jacks. You also need sufficient ceiling clearance to raise the car completely. It boils down to getting one that is safe to use, fits the garage dimensions you have and that suits the kind of work you will be doing.

There are several manufacturers of four post lifts including Bend Pak, Superior Lifts, Back Yard Buddy, Double Park, Mohawk, etc. so you might want to check them all out before buying. One low cost unit is the Quiklift which is much less expensive but you need to use a floor jack to lift it. It is good for doing oil changes but limited in other ways. You might want to check them out also. Here are some addresses to other lift companies: http://www.autolifters.com/ ; http://www.superlifts.com./ ; http://www.doublepark.net/ ; http://www.backyard-buddy.com/ ;http://www.kwiklift.com/ These will give you an idea of some of the other equipment out there. With any lift evaluating it's inherent design quality, construction, safety features, certification and installation requirements are key points to consider. Also, check to see if they have been certified by an independant source using ANSI rating standards and look for feedback from those that have them.

This unit did not require any special preparation but I did place stainless steel plates under the front and rear to protect the tile on the floor. On cement you wouldn't have to do that. It is an electric/hydraulic unit and I run it from a 20amp line. Overall it's proven to be very useful and has turned into one of those pieces of equipment that you wonder how you ever got along without it.
---
Latest Corvette:
For some time we have been trying to decide what we would get for our next Corvette. We were looking for a comfortable cruiser for our long-distance trips and a car we could also use on the track. After considering seveal models we decided that the C6 Z06 would be the perfect choice. We were fortunate to find a very low mileage 2007 with the exact color combination and options we were looking for from Kerbeck Chevrolet.
Our first trip was to Watkins Glen in April, 2010 where we had a chance to drive it on the track. Having run there several times previously with a different car we were impressed at how well the car performed on the track. We were also pleased with the 26 mpg the car provided on our trip to the track.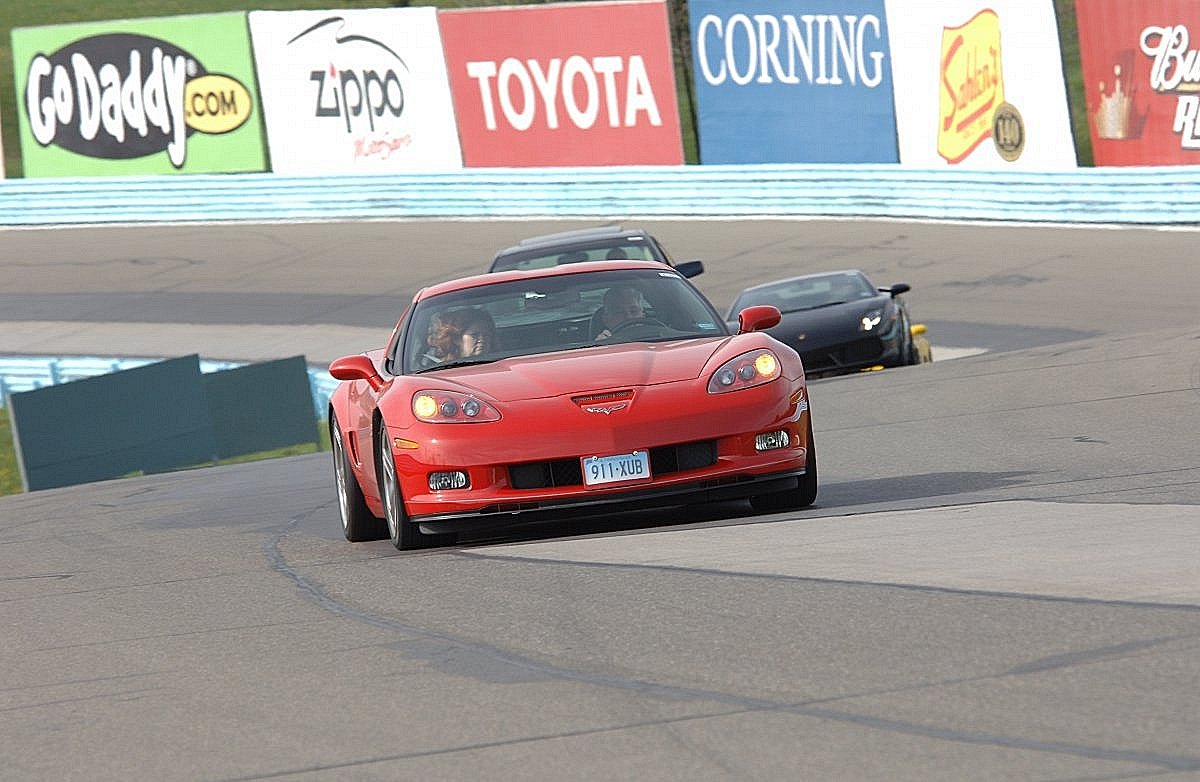 We have quite a few modifications planned for the car but mostly for appearance, performance and to provide exterior protection for the kind of use we have planned. Our first job was to clean, polish and seal the exterior. As usual we used Zaino products. We began with a good washing, polishing with Zaino Fusion and sealing with Zaino Z5 followed by Z6 detailer. The job was made easier by taping all the places we wanted to protect. While taping takes some time it makes the polishing go much faster and avoids having to remove the polish from the areas where you don't want it.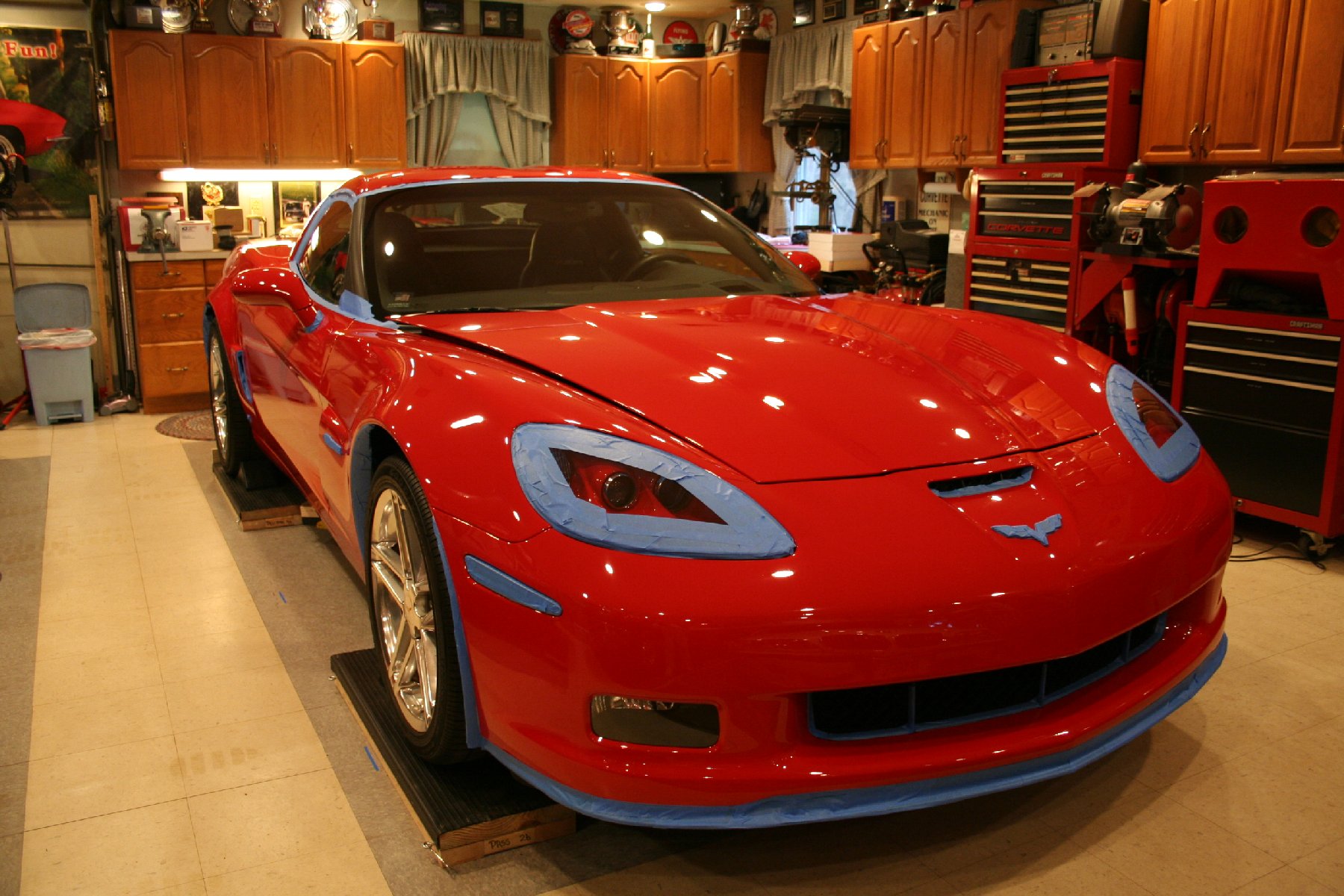 One of the concerns for the use we have planned is a means to protect the paint from chips. After considering the options we decided to go with the clear-shield for the nose, rocker panels and the area around the rear brake ducts. We found a company called Protection Plus in East Longmeadow, Mass and, after looking at their work, decided to have them install the 3M Ultra-Shield product. One great thing was that they came right here to do the job. To reduce the appearance of seams we removed the front spoiler and moved the front stone guards away from the fenders so the material could be wrapped around the edges. We've very pleased at how clear and evenly the material went on. We were never tempted to do this job ourselves as some jobs are best done by the pros. After watching the installation there was no doubt in our mind that we made the right choice.
Here Jon is installing the clear-shield on the nose of the car. Jon and Paul did a great job and we feel more comfortable having the added protection. Their web site is at this link: Protection Plus web site <!/CW-ID="9960078335245"><!CW-ID="9980078335245">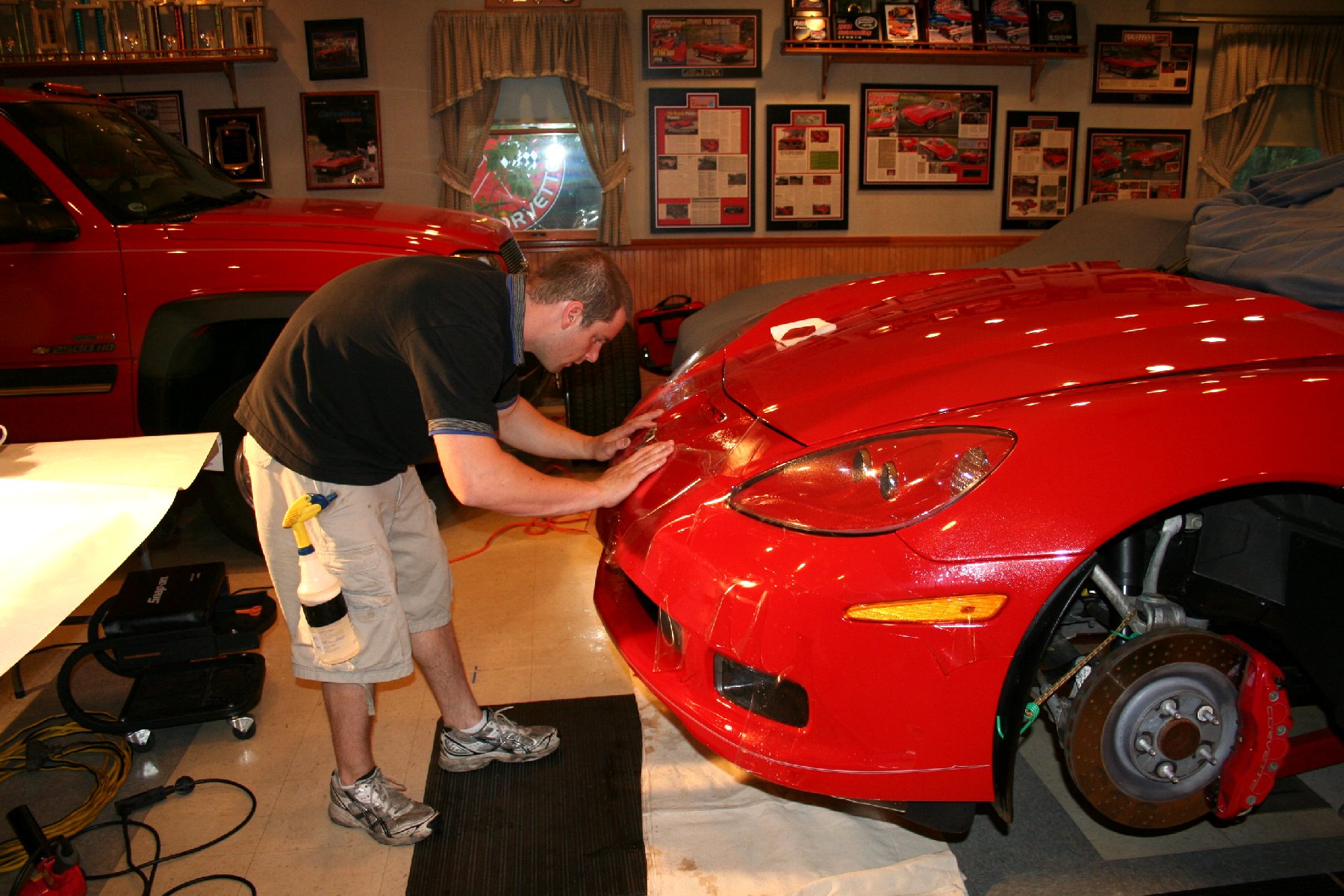 <!/CW-ID="9980078335245">