<!CW-ID="9800078335246">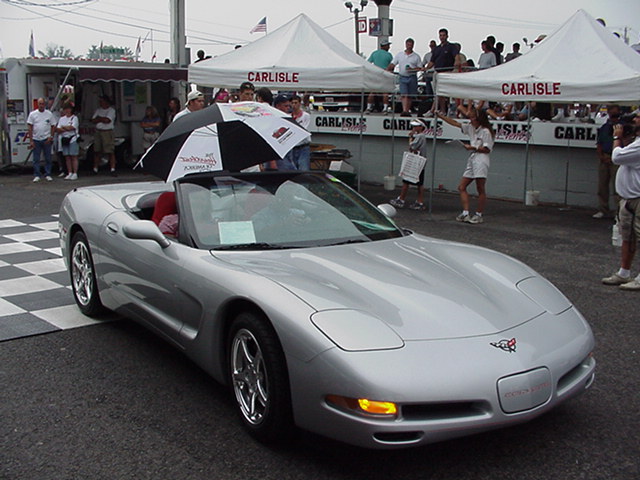 <!/CW-ID="9800078335246">

<!CW-ID="9770078335246">

In 2000 we participated in the "Fun Display" with the C5. It was announced that there were 1,800cars entered! This is a great place to have your car as you get admission for all three days including parking on the field which is in a central location to see everything. We were fortunate enough to receive a "Celebrity Pick" award. On Sunday at 2pm all the recipients parade their cars to the grandstand where they are presented with a plaque. Since it started to sprinkle we put up our newly available special order option - Instant Umbrella Top!(Option Code:IUT1). Thanks to George Hoover and Jim O'Neil for taking the pictures.

<!/CW-ID="9770078335246">

<!CW-ID="9790078335246">

<!/CW-ID="9760078335246">

<!CW-ID="9780078335246">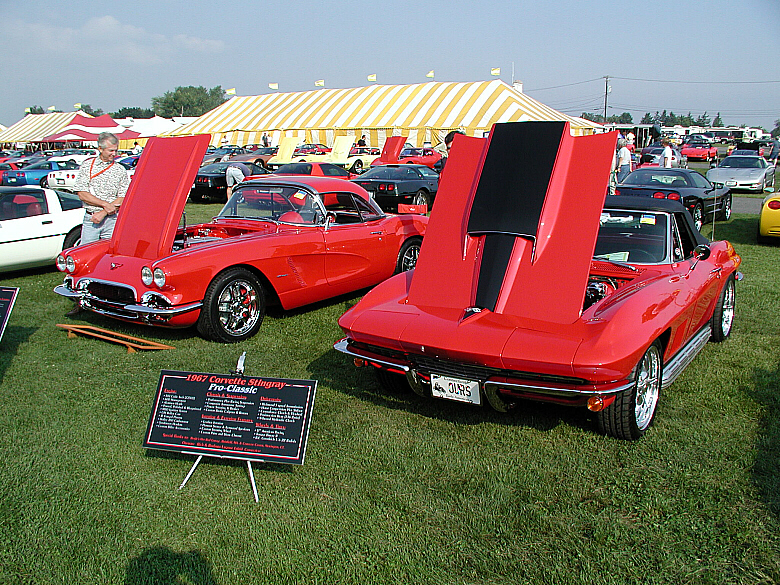 <!/CW-ID="9780078335246">

<!CW-ID="9750078335246">

In 2001 we took both the 67 and the just completed 62 to Carlisle. We were fortunate enough to receive "Celebrity Pick Awards" for both cars. Our oldest son got to drive the 67 to the ceremony and had a grin from ear to ear.We spoke to so many nice folks that we hardly had voices left at the end of each day. We enjoyed every minute. One highlight was finding a fellow literally under the back of the car. It turned out to be Dave Hill. He came back three times as well as his entire engineering team. He's obviously an enthusiast and it's nice to see someone like him who can appreciate all varieties of Corvettes. Vette Magazine and Corvette Magazine.com have features on the 2001 show. Just click on the links below to see them.

<!/CW-ID="9750078335246"><!CW-ID="9990107657126">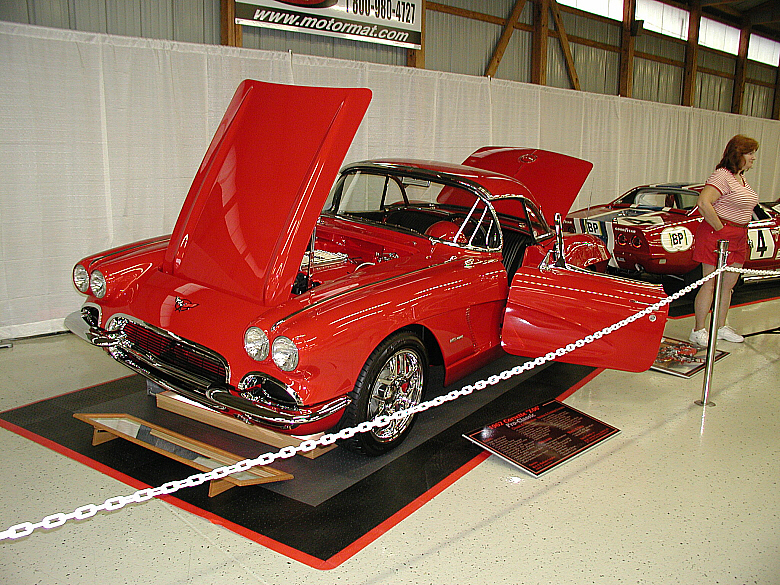 <!/CW-ID="9990107657126"><!CW-ID="9990107657208">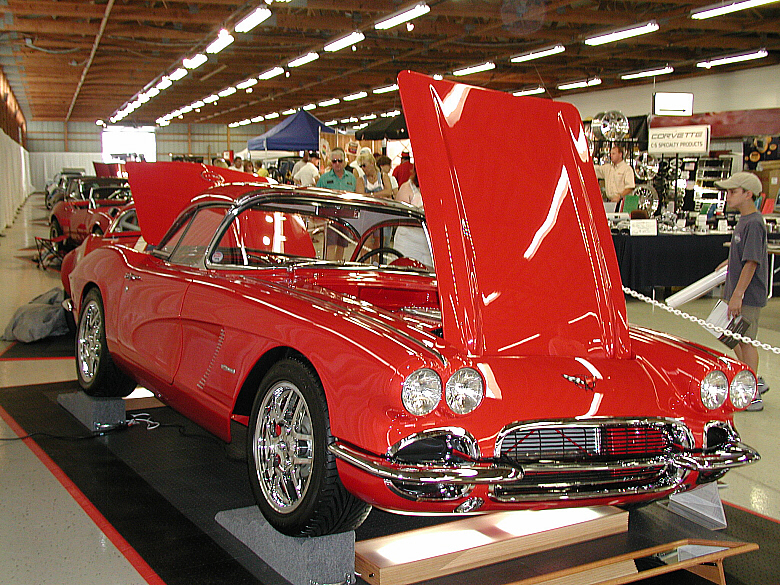 <!/CW-ID="9990107657208"><!CW-ID="9990107657555">

For 2002 we were fortunate enough to be invited to display the 62 Vette as part of "Chip's Choice" at Carlisle. We consider it an honor to be amongst such great cars in this display and Chip Miller went out of is way to make everyone feel welcome. We had a chance to speak with many folks we have met in prior years as well as meet many new people. Barbara and I enjoyed speaking with everyone who came by.

It was another great Carlisle event and one that every Corvette fan shouldn't miss. We are already looking forward to next year's show.

<!/CW-ID="9990107657555"><!CW-ID="9990139179239">
<!/CW-ID="9990139179239"><!CW-ID="9990139179648">

For 2003 we returned with the 62 Vette. This is a picture of Barbara with Dave Hill taken on the Celebrity Pick field. Mr. Hill is an outgoing and personable individual and it's good to know that the Corvette is in good hands.

We were fortunate to receive a Celebrity Pick from Gilbert Scrivner who is the recently elected president of NCRS. It was great to spend some time with him at the event.

As usual, while the cars are the common point of interest, it's the friends you meet again and the new friends you make that make Carlisle special. We're already looking forward to next year.

<!/CW-ID="9990139179648"><!CW-ID="9990173642596">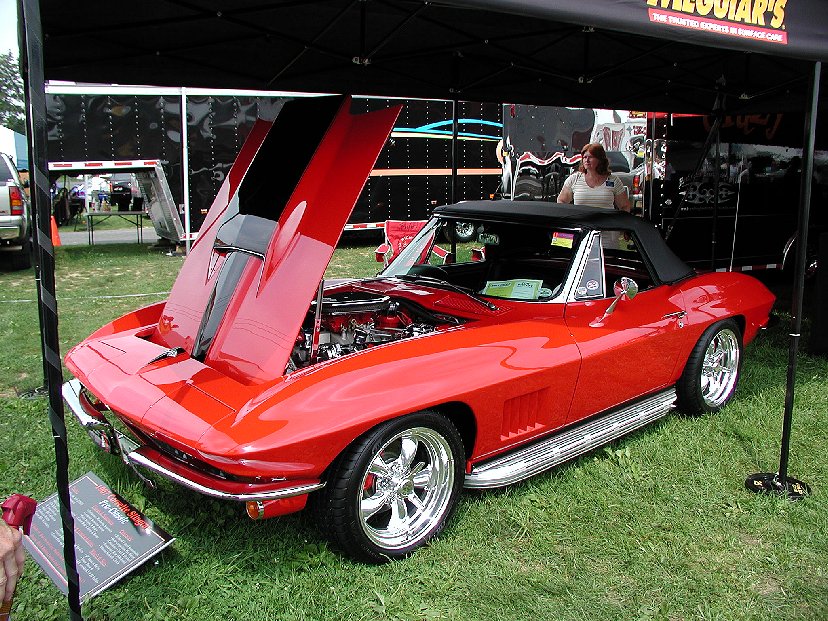 <!/CW-ID="9990173642596"><!CW-ID="9990173643009">

We decided it was the 67's turn for Carlisle 2004. We were lucky enough to be asked to display the car under the Meguiar's tent which helped us to keep out of the sun. It didn't help much with the downpour on Saturday afternoon though. :-)) The downpour happened just when they were interviewing us for a one hour TV special on Carlisle (on Speed Channel in March, 2005) so they had to reshoot it on Sunday morning.

The 67 was fortunate to receive a Celebrity Pick from Jim and Vivian Lawson. They are great folks. We also enjoyed speaking with all the folks who stopped by to chat. That's always the most enjoyable part of Carlisle for us.

<!/CW-ID="9990173643009"><!CW-ID="9990202681140">

<!/CW-ID="9990202681140"><!CW-ID="9990202681551">

Corvettes @ Carlisle was another great event in 2005. What we enjoy the most is seeing old friends again, meeting new folks that stop by and all the events that Carlisle has to offer. This year was no exception. Even the cloudy weather for much of the time was nice in that it kept the temperatures down. The rain on late Saturday afternoon continued until Sunday morning. But, Barb kept saying the sun would come out for all the Sunday activities and it did.

We brought the 62 this year and it was fortunate enough to receive a Celebrity Pick. We enjoyed parking along side our friends Jim and Janet Dawes and speaking with all the nice folks who stopped by.

<!/CW-ID="9990202681551"><!CW-ID="9990241127586">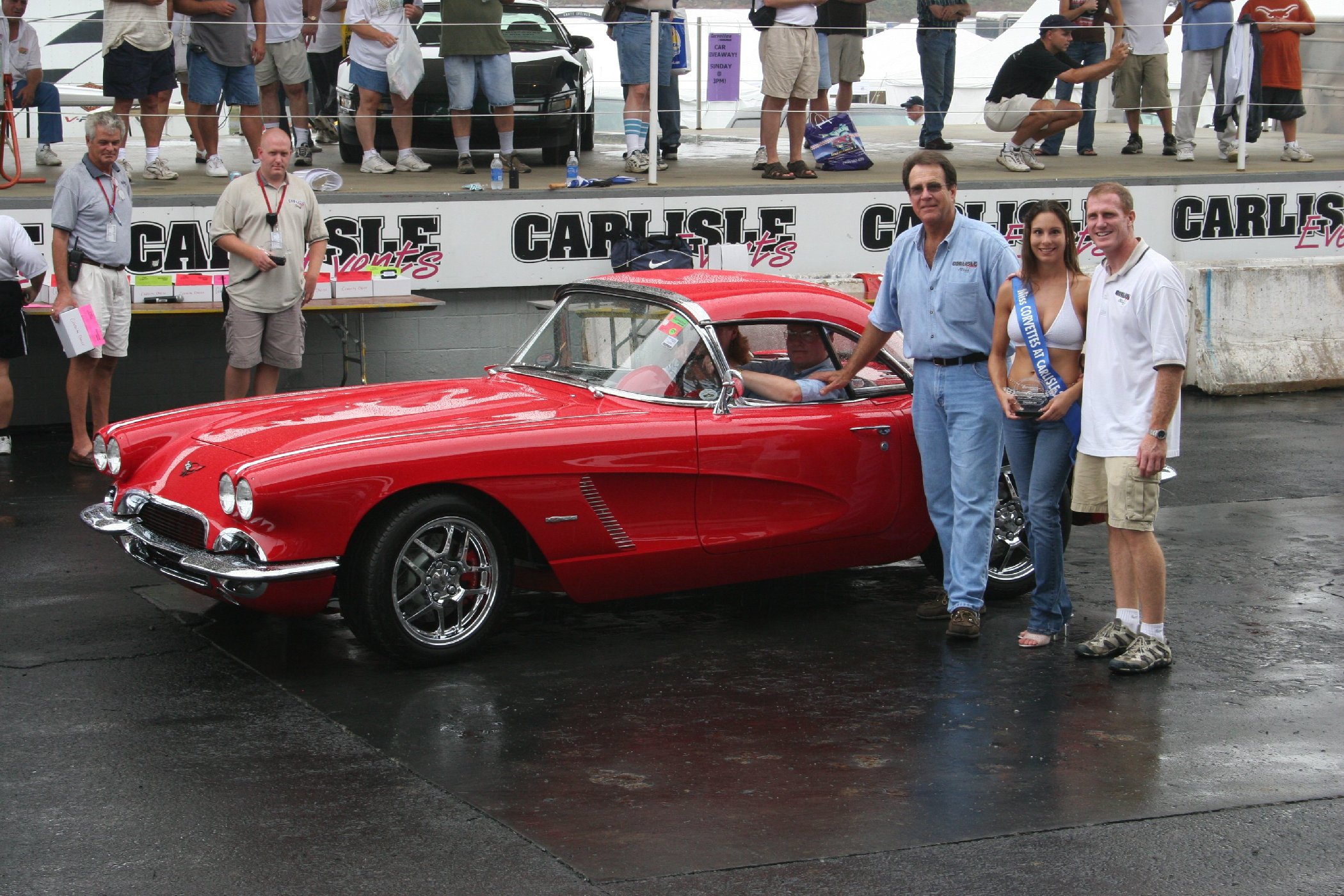 <!/CW-ID="9990241127586"><!CW-ID="9990241127921">

Corvettes @ Carlisle was another great event in 2006. We always enjoy seeing old friends again, meeting new folks that stop by and all the events that Carlisle has to offer as well as the dinner parties. The weather was cloudy with rain at times including the Celebrity Parade on Sunday. If you look closely you can see the rain drops on the car. But, it didn't dampen the enthusiasm for the event.

We brought the 62 again this year and it was fortunate enough to receive a Celebrity Pick. We enjoyed parking along side our friends Jim and Janet Dawes again and speaking with all the nice folks who stopped by. We hope to have the 63 finished in time for next year's event and are looking forward to it.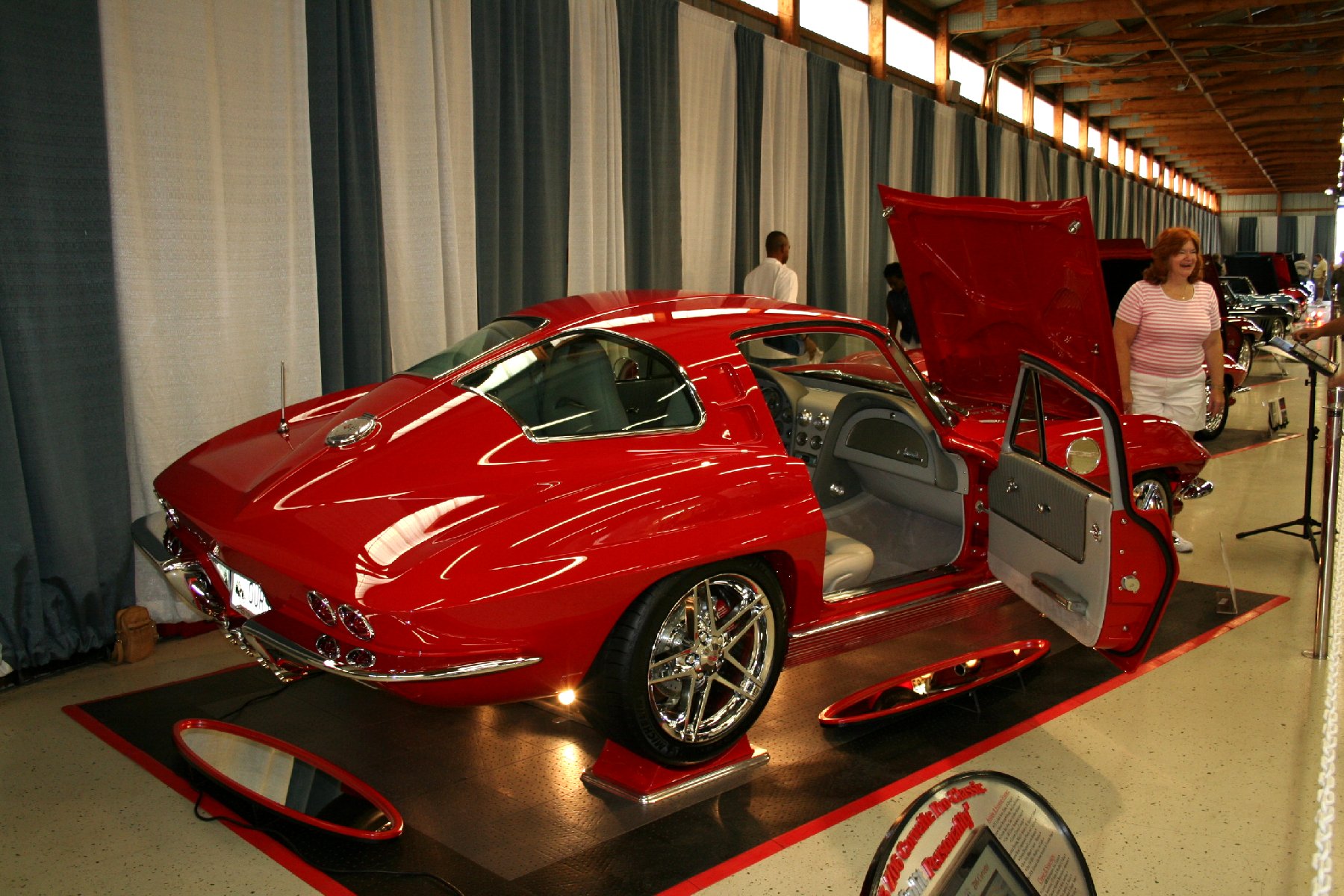 While we didn't bring a car to Carlisle in 2007, having just parted with the 62 Corvette, we were fortunate enough to be selected to be in the 2008 Chip's Choice display along with eleven other great cars. The theme for this year's display was "Vette-Rods" (although we prefer the term "Pro-Classic") and it was a super display as every car showed the owners unique design ideas which is the most interesting aspect of cars of this type. The owners were as unique as their cars and a great group of folks to meet. Our former 67 was also part of the display and it was great to see it and the new owners again.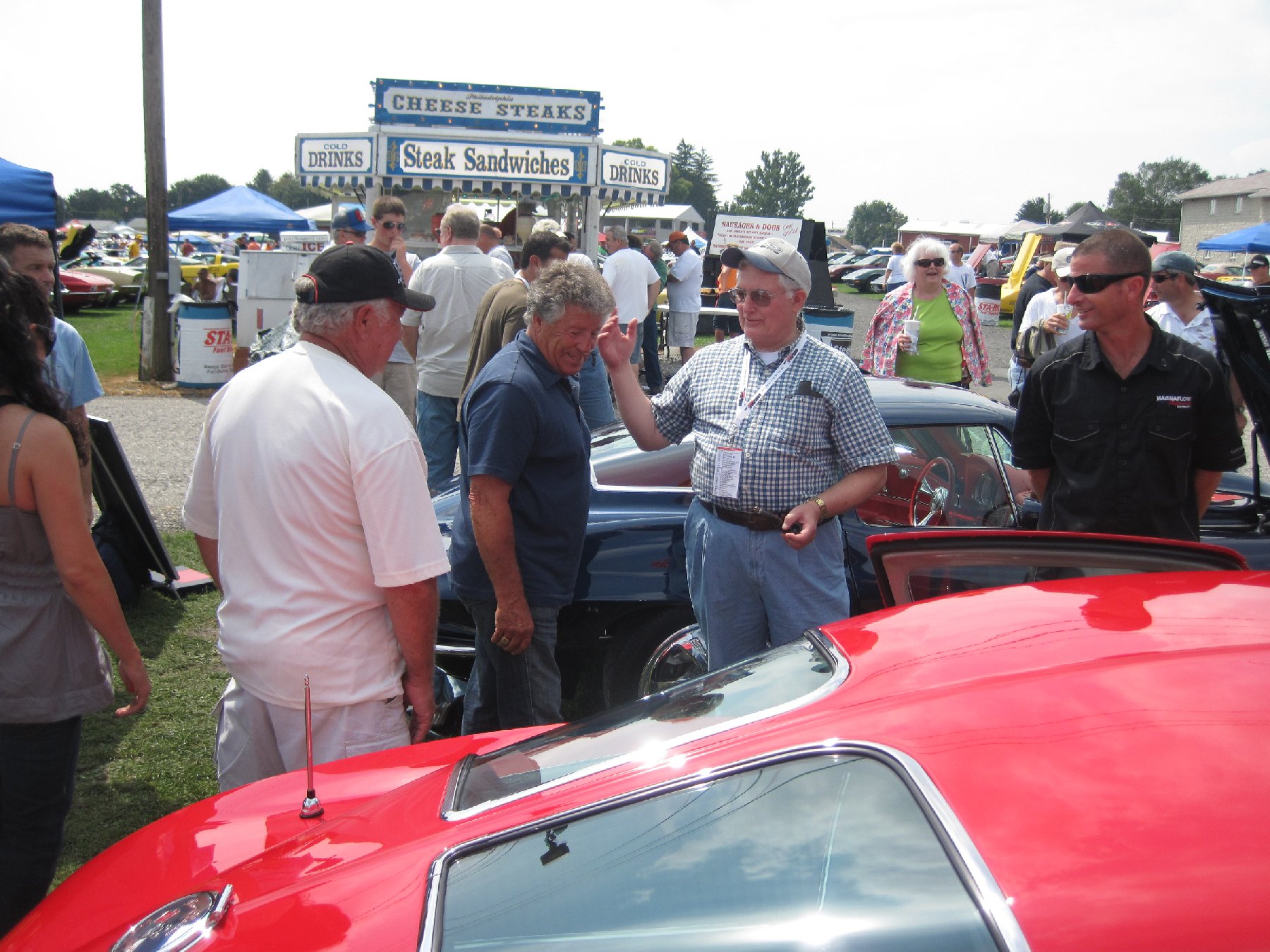 <!/CW-ID="9990241127921"><!CW-ID="9980083005471">

While the weather was a bit damp for 2009 there were enough dry periods on Thursday, Friday and Saturday for a great turnout. Sunday's weather was perfect. We were parked on the Fun Field with our friends Jim and Janet Dawes, Ron Champe and Jeff Cleary.

On Saturday we were surprised to find Mario Andretti stopping by to see the car. It was great to meet a racer with his long list of accomplishments in person. We were fortunate that a friend of ours (Luiz Arend) happened to be there to take a picture.